band biography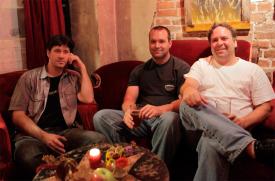 Zephrus
Rock trio Zephrus, from Burlington, VT was formed in 2012, and features the talents of guitarist Corey Cranston (Excessive Behaviour, Band-X, Elephants of Scotland), drummer Troy Cyphers (Band-X, Dog, Baba Fats), and bassist Scott McGrath (November Guest, Longford Row). They have released two studio albums, performed at venues around Vermont including Higher Ground, and received radio airplay on CKRL (Quebec City, QC), WRUV, WBKM, WOMM, and others. Zephrus' musical canvas is painted with brush strokes of Led Zeppelin, King Crimson, Yes, Pink Floyd, Steely Dan, The Police, Weather Report, Stone Temple Pilots, Brand X, and more. The music of Zephrus is experimental rock, comprised of epic instrumentals and deep-track originals with strong vocal harmonies, and evoking sounds familiar to classic rock, jam band, latin jazz, folk, and electronica. The members of Zephrus draw upon a folk influence, manifesting in the use of innovative approaches to the playing of their instruments. The trio is as comfortable playing blistering power-guitar rock on a big stage as they are performing in a quiet coffee shop setting with acoustic instruments.
members

Corey Cranston
Best known as guitarist and founding member of Buffalo, NY based band,
Excessive Behaviour
, he has also been a member of Burlington bands
Band-X
,
Elephants of Scotland
, and
Carpenter Smith
. Corey has shared the stage with the likes of Natalie Merchant, Gordon Stone, Tammy Fletcher, Nobby Reed, Gregory Douglass, and Dave Keller, to name a few. His first solo album,
The Seerch
, was released in 2001, and he has released several others since.
Corey is a left handed guitarist who uses a variety of techniques to produce unorthodox sounds and textures, one aspect that serves to set the music of Zephrus apart from other bands. Corey's musical roots come from Classic and Progressive Rock, Classical, and Jazz Fusion. You can find out more about Corey at
www.coreycranston.com

Troy Cyphers
Troy got his first drum kit shortly after former
Boston
band member, Fran Sheehan, overheard the 6-year-old jamming. Thanks to a very random set of circumstances, Troy was present (with his parents) at a social gathering at Sheehan's house, and occupied himself by trying out the drum kit he found in the basement. Sheehan's comment was that he was "amazed", and that his parents "should get him a drum kit right away".
A true innovator on drums and percussion, Troy has been playing and refining his technique since then. Troy's influences come from classic rock greats such as the Police, Pink Floyd, Led Zeppelin, and many others. He has played many styles of music with many bands, having been a member of New England's Band-X, Dog, and 4:20, as well as California bands The Pointless Sisters and Baba Fats, to name a few.

Scott McGrath
Electric and upright bass player, sound engineer and composing musician from Burlington, Vermont. McGrath comes from a family of fine musicians - his Grandfather was a band leader and violinist in New York in the 30's and 40's. His aunt was a talented jazz singer in the 70's, 80's and 90's, and his uncle a Hammond B3 player. He has been a member and a regular performer of celtic folk band Longford Row (celtic folk), November Guest (original), Shakedown (dance/cover), as well as a session player for several other bands. He began playing at the age of 12, and received tutelage by bass virtuoso Aram Bedrosian. McGrath's performance style draws upon influences from a variety of genres including rock, electronica, jazz, and punjabi. He has shared the stage with Pete Sutherland, Will Patton, Doug Perkins, Patrick Ross, Bob Wagner, and many others. He has also recorded and produced several albums for area bands. His personal website is
www.smcgrath.com
.